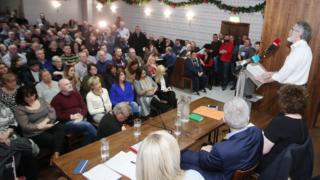 Image copyright Press Eye Image caption Sinn Féin held a meeting to address the RHI crisis in west Belfast on Saturday Arlene Foster is not a prime minister but a co-equal partner in government, Sinn Féin"s Gerry Adams has said.
He said his party would act if the first minister did not respond to the wishes of society over the Renewable Heat Incentive fiasco.
"She can continue in that office but only for as long as Sinn Féin allows it," he said.
Mrs Foster has rejected repeated calls to stand down while the botched green scheme is investigated.
Q&A: What is the RHI scheme? Timeline: Botched heating scheme scandal RHI: Public inquiry or independent investigation? Hamilton "in cloud cuckoo land" BBC News NI reports on the RHI scheme The Renewable Heat Incentive (RHI) scheme was launched in 2012 to help businesses ditch fossil fuels for renewables such as wood.
Mrs Foster was the then enterprise minister in charge of the scheme, which was set up to help cut carbon emissi..
Read More