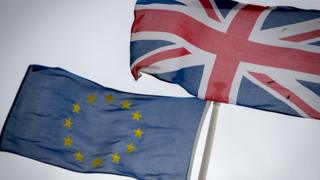 Image copyright Getty Images Nearly 400,000 jobs could be created as a result of post-EU trade deals with other countries, pro-Brexit campaign group Change Britain has claimed.
By leaving the EU"s customs union, it said, the UK would be free to negotiate deals with the US, India, China, Japan, Canada, Korea and trading blocs in South America and South East Asia.
This, it said, would bring an estimated £23bn export boost and 387,580 jobs.
But the figures were dismissed as flawed and misleading by opponents.
Pro-EU campaigners said the statistics were based on the assumption of replicating EU deals with other countries that the UK would no longer be part of.
The UK would simply not be able to secure deals of a "comparative depth" to those negotiated by the EU after Brexit.
UK"s ambassador to the EU resigns Reality Check: What is a customs union? Change Britain, which grew out of the Vote Leave campaign group, is pressing for a so-called "hard Brexit", where the UK pulls ou..
Read More