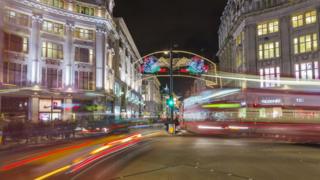 Image copyright Getty Images Life in the UK will undergo "radical" change in the 2020s due to Brexit, population changes and jobs being taken by robots, a think tank has predicted.
The Institute for Public Policy Research (IPPR) said there would be a Brexit "aftershock" and that the UK"s exit from the EU would be "the firing gun on a decade of disruption".
It identified wide-ranging factors that would "reshape how we live and work".
The government has promised to "forge a new role" for the UK in the world.
In its report, the IPPR, a centre-left think tank, said Brexit would be one of the major "disruptive forces" in the years ahead, saying the vote had delivered a "profound shock" to the UK"s political and economic order which was likely to set the country on a path of permanently lower growth and living standards.
It also anticipated a "demographic tipping point" with a population boom and the number of people aged 65 and over predicted to rise by a third by the end of the ..
Read More