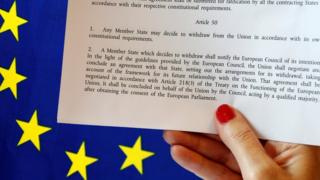 Image copyright Reuters "Brexit means Brexit" is something we"ve all heard many times. But it"s still not entirely clear what it actually means. If you"re feeling lost, help is at hand: here"s our handy guide to the A-Z of Brexit.
A: Article 50Known as the "exit clause", Article 50 sets out the process the UK will go through to leave the European Union.
It sets the clock ticking on negotiations, giving a deadline of two years before the UK"s membership of the EU ends – unless all EU member states" leaders vote unanimously to extend that period.
It says that any deal negotiated between the UK and EU will come down to a vote of European leaders, where it will need to be passed by a qualified majority and passed by the European Parliament.
B: Barnier Image copyright Reuters Previously tasked with cleaning up the continent"s financial services, Michel Barnier is the European Commission"s chief Brexit negotiator.
He"s a politician with a lon..
Read More