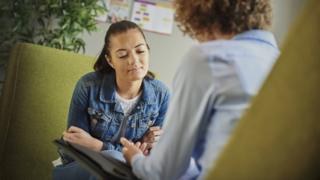 Image copyright iStock Plans to tackle the "hidden injustice" and stigma of mental illness have been revealed by Theresa May.
Extra training for teachers, an extra £15m for community care, and online self-checks were among measures announced by the PM on Monday.
Mental health experts said more funding was needed to improve services.
Mrs May"s speech comes as she outlined her plans to use the state to create a "shared society".
She promised to "transform" attitudes to mental health problems as part of an event at the Charity Commission.
Young women "highest mental health risk" One in four adults "has mental illness" Politics and jobs "swell youth anxiety" The government says that, at any time, one in four people has a mental disorder, with an annual cost of £105bn, and that young people are affected disproportionately.
In the speech, Mrs May announced:
Every secondary school to be offered mental health first aid training Trials on strengthening link..
Read More