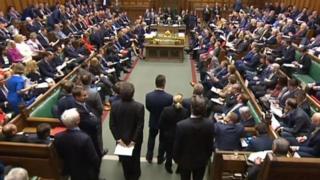 Image copyright PA Political parties must face fines if they do not ensure at least 45% of general election candidates are female, MPs have recommended.
The Women and Equalities Committee said the fact that 30% of current MPs were women represented a "serious democratic deficit", for "no good reason".
It said the law must change after the 2020 general election, if that figure "does not increase significantly".
The government said it was considering the recommendations.
There are currently 195 women in the House of Commons. The cross-party committee"s report said the meant the UK was ranked 48th in the world, in terms of female representations in equivalent institutions.
Women in the House of Commons
Image copyright Getty Images There are currently 195 female MPs, including four who have won by-elections since the 2015 general election The first woman elected to Parliament was Sinn Fein"s Constance Markievicz, in 1918 But Conservative Nancy Astor (above), elected a year late..
Read More