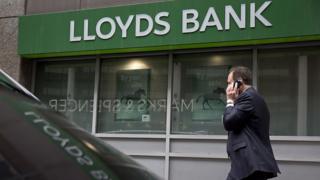 Image copyright Getty Images The UK government is no longer the biggest stakeholder in Lloyds Banking Group, after it cut its stake to less than 6%.
The government spent £20.3bn to acquire a 43% stake in Lloyds at the height of the financial crisis.
It has already said it wants to return the bank to full private ownership during the course of 2017.
The biggest shareholder in Lloyds is now Blackrock, the world"s largest asset manager.
Royal Bank of Scotland (RBS) is still about 71%-owned by the government. In the aftermath of the 2008-2009 banking crisis the UK government had to spend a total of £115bn to rescue Lloyds Banking Group and RBS from imminent collapse.
UK Financial Investments, which manages the government"s stake, stopped selling Lloyds" shares last January because of financial market volatility.
In October, it resumed sales to institutional investors, but because of continued volatility, the shares were not made available to member of the public.
Anal..
Read More