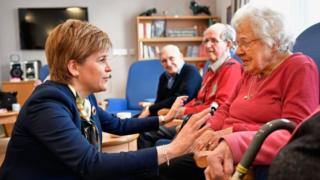 Image copyright Getty Images Image caption Ms Sturgeon was speaking during a visit to Midlothian Community Hospital in Bonnyrigg Scotland"s first minister has explicitly ruled out holding a second referendum on independence this year.
The Scottish government has already drafted legislation for a referendum after Nicola Sturgeon said another ballot was highly likely in the wake of the UK voting to leave the EU.
But Ms Sturgeon told STV News that any referendum would not been held in 2017.
Her predecessor, Alex Salmond, has predicted a vote on independence will be held in the autumn of next year.
Ms Sturgeon said: "There is not going to be an independence referendum in 2017, I don"t think there is anybody who thinks that is the case."
Scottish politics – six things to look out for in 2017 Sturgeon: "I"m not bluffing" on indyref2 Soft Brexit could put aside indyref – FM She has previously said a vote on independence will be held if the Scottish government concl..
Read More