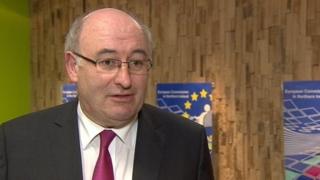 Image copyright RTÉ Image caption Phil Hogan warned "a hard border" with Northern Ireland looked inevitable The Republic of Ireland"s relationship with the UK will have to change in a post-Brexit Europe, Ireland"s EU agriculture commissioner has said.
Phil Hogan said: "Our common interest with the UK in many areas has been a defining characteristic of our EU membership to date."
But this would now be an "enormous mistake" in Brexit negotiations.
Speaking in two national newspapers on Monday, Mr Hogan also said "Brexit is a mess and getting messier".
Writing in The Irish Times, he said: "There is a real risk that Ireland could allow our relationship with Europe to be defined by our relationship with the UK, which would be an enormous mistake in my view.
"Instead, we should have the confidence and direction to recognise that post-Brexit Ireland will need to have in place a wholly different set of relationships with our EU partners."
He also said the country needed to protect ..
Read More