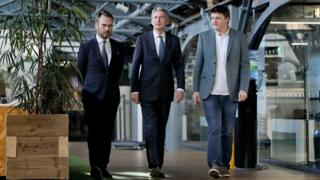 Image copyright PA Image caption Chancellor of the Exchequer Philip Hammond (centre) meeting Gerry Mallon, CEO of Ulster Bank (left) and Patrick Walsh, MD of Dogpatch Labs during a visit to Dublin. Britain has not made any decision on whether or not to stay in the European single market after Brexit, says the UK Chancellor, Philip Hammond.
The chancellor made his comments in an interview with the Irish broadcaster RTE.
"We haven"t made any decision on which structures would best support our aspirations," he said.
"Whether it is being in or out of the customs union, in or out of the single market," he added.
His comments came just a day after the Prime Minister, Theresa May, appeared to downplay the importance of the UK retaining any residual membership privileges from the European Union"s single economic market.
First objectiveMr Hammond rejected the idea that the Brexit process had been badly handled so far, pointing out that it had barely started and that the UK government..
Read More