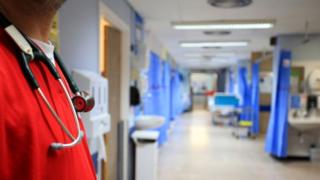 Image copyright PA Patients attending A&E units with less serious problems may no longer be guaranteed to be seen in four hours, the health secretary has suggested.
Jeremy Hunt told the House of Commons the government was "committed to maintaining" the target.
But he said if the standard was to be "protected" it might need to be applied to only those patients with urgent needs rather than minor problems.
It comes as hospitals are reporting unprecedented pressures this winter.
Department of Health sources said there were no immediate plans to change the target but ministers wanted an honest conversation with the public about A&E.
NHS rejects claims of "humanitarian crisis" "Deeply worrying" waits for hospital beds Currently, every patient who goes to an accident and emergency department should be seen in four hours.
But hospitals have been struggling to achieve that – the target has not been met since the summer of 2015.
Mr Hunt said it was time to look at how the ..
Read More