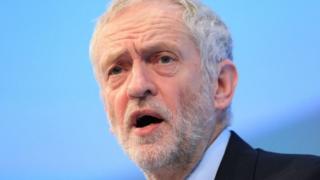 Image copyright PA Jeremy Corbyn is to say Labour is not "wedded" to freedom of movement for EU citizens in the UK as a "matter of principle", as he sets out his views on Brexit negotiations.
In a speech, the party leader will argue the UK "can be better off" after leaving the EU, but add that he will not allow Theresa May a "free pass".
Mr Corbyn will pledge to push for "fair and reasonably managed migration".
Mrs May has said Brexit can "change the country for the better".
With negotiations between the UK government and the EU set to begin as early as April, there is much speculation over whether the prime minister will push for the UK to remain part of the European single market or opt for a so-called "hard Brexit" – leaving the single market but gaining fuller control over immigration.
May: Brexit can "change UK for better" Ireland-UK ties "need Brexit review" Davidson calls for single market access In a speech in Peterborough on Tuesday, Mr Corbyn will say: "W..
Read More