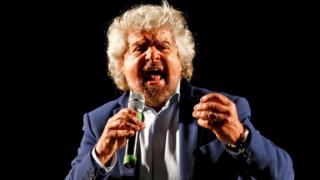 Image copyright Reuters Image caption M5S was founded by Beppe Grillo, a former comedian Italy"s powerful anti-establishment Five Star Movement (M5S) has voted to break its European Parliament ties with the UK Independence Party (UKIP).
M5S members backed founder Beppe Grillo"s call to join up with the liberal bloc ALDE. That could make ALDE the parliament"s third-biggest group.
ALDE members will discuss a possible deal with M5S later on Monday.
ALDE and M5S have issued a joint manifesto for EU reform. UKIP"s Nigel Farage criticised the M5S move.
However, unlike the liberals, M5S is anti-euro and wants Italy to hold a referendum on whether to keep the single currency.
If M5S does form an alliance with ALDE, it will leave UKIP"s group – Europe of Freedom and Direct Democracy (EFDD) – much weakened. EFDD has 22 UKIP members and 17 from M5S.
So by losing 17 Italian MEPs the group would have 27 left. The minimum for a group to qualify for European Parliament s..
Read More