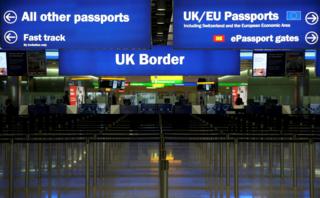 Image copyright Reuters EU migration will not fall sharply if the UK stays in the single market, a pressure group has said.
If the UK kept market membership after Brexit, net migration from the EU was unlikely to drop below 155,000 a year in the medium term, compared to 189,000 now, Migration Watch said.
Market membership and migration control were incompatible, it claimed.
The government has not yet set out its negotiating objectives ahead of official Brexit talks.
Record numberTrade and migration are likely to be key sticking points when talks begin – expected to be in the spring.
Prime Minister Theresa May has indicated she wants limits on existing freedom of movement rules as part of the final deal.
This, ministers believe, would help the government in its broader objective of reducing net migration – the difference between the number of people settling in the UK and those leaving – to below 100,000 a year.
Overall net migration has been consistently higher than 300,000 in the la..
Read More