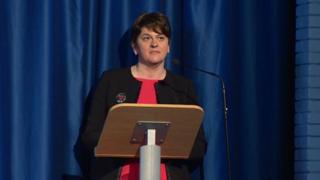 Image caption Arlene Foster said she would not accept Sinn Féin investigation terms of reference during a visit to a school on Friday Northern Ireland"s first minister has rejected plans for an investigation into a botched heating scheme that could cost taxpayers £490m.
Sinn Féin published its proposed terms of reference for an independent investigation into the Renewable Heating Scheme (RHI).
When asked if she would accept the proposals, Arlene Foster replied "no".
Mrs Foster set up the scheme in 2012 when she was enterprise minister and has refused calls to step aside.
Sinn Féin want her to do so while the debacle is investigated.
Q&A: What is the RHI scheme? Timeline: Botched heating scheme scandal RHI: Public inquiry or independent investigation? BBC News NI reports on the RHI scheme The RHI scheme was an attempt by the NI Executive to increase consumption of heat from renewable sources.
But businesses received more in subsidies than they paid for fuel, and the scheme became..
Read More