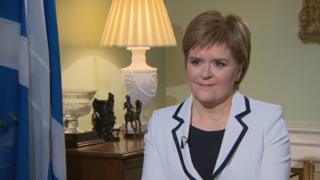 Image caption Nicola Sturgeon told Andrew Marr she was not "in any way bluffing" on the issue of a second independence referendum Nicola Sturgeon has warned Theresa May that she is not "bluffing" on the promise of a second independence referendum if Scotland is "driven off a hard Brexit cliff".
Scotland"s first minister told the BBC"s Andrew Marr she felt the prime minister had "no plan" in terms of her strategy for the UK leaving the EU.
She said she was prepared to compromise and wants Ms May to do the same.
The UK government has said a special deal for Scotland is unrealistic.
The prime minister plans to trigger the Brexit negotiations by the end of March.
Voters in Scotland backed the UK staying in the EU by 62% to 38%.
Ms Sturgeon has said she wants the UK to retain membership of the European single market, the so-called soft Brexit option.
"Opportunity to decide"She has also indicated a soft Brexit would see the prospect of Scottish independence "put aside" i..
Read More