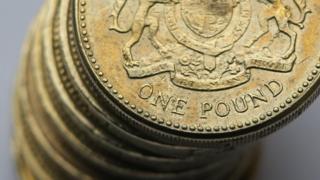 Image copyright Getty Images The value of the pound has fallen to a two-month low against major currencies after Prime Minister Theresa May signalled the UK would pursue a so-called "hard Brexit" from the EU.
Sterling fell about 1% across the board. The only currency that it gained ground against was the Turkish lira.
The Prime Minister told Sky News on Sunday that she wanted the best possible deal for leaving the EU.
However, she dismissed the idea that the UK could "keep bits of membership".
She added: "We"re leaving. We"re coming out. We"re not going to be a member of the EU any longer."
Commentators interpreted this as meaning that Mrs May would not seek to keep the UK in the EU"s single market, with radical consequences for the country"s economy.
"Populist politics"By late morning, the pound was down 1.06% against the dollar at $1.2155, while against the euro, it was 0.89% lower at €1.1561.
"Sterling is on the back foot on Monday after Theresa..
Read More