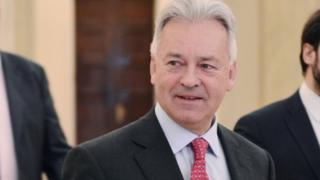 Image copyright AFP/Getty Images Israel"s ambassador to the UK has apologised after a senior member of his staff was secretly filmed saying he wanted to "take down" Foreign Office Minister Sir Alan Duncan.
Israeli Embassy senior political officer Shai Masot made the comment in footage filmed in a London restaurant and obtained by the Mail on Sunday.
He told a reporter that Sir Alan was creating "a lot of problems".
Ambassador Mark Regev said this was not the embassy or government"s view.
Secret recordingThe conversation involved Mr Masot and Maria Strizzolo, an aide to education minister Robert Halfon, the former political director of Conservative Friends of Israel, as well as an undercover reporter.
It was recorded in October 2016 as part of an investigation by Al Jazeera.
Mr Masot asked her: "Can I give you some names of MPs that I would suggest you take down?"
Ms Strizzolo replied that all MPs have "something they"re trying to hide" and Mr Masot responded by saying "..
Read More