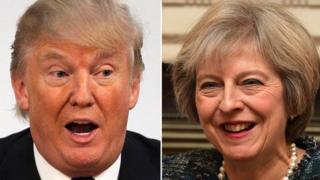 Image copyright PA Image caption Mr Trump referred to Britain as "a long time US ally" in a tweet Donald Trump has confirmed he will hold his first meeting with Theresa May in the spring, saying he was "very much" looking forward to it.
The US President-elect tweeted that the Prime Minister would head to Washington to meet him after his inauguration.
He referred to Britain as "a long time US ally" and as "very special".
The introduction was organised after meetings with the PM"s closest advisers over Christmas.
A date for the meeting has not yet been confirmed, but is expected to come within weeks of Mr Trump"s inauguration on 20 January.
The tweet was sent just after 02:00 GMT (21:00 in New York).
The PM and President-elect are understood to have spoken twice since his election victory in November and Mrs May"s joint chiefs of staff, Nick Timothy and Fiona Hill, travelled to the US in December to meet with Mr Trump"s team.
Special relationship?The fi..
Read More