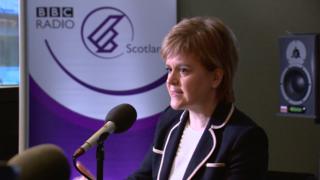 Image caption Nicola Sturgeon was speaking on the BBC"s Good Morning Scotland Nicola Sturgeon has suggested a soft Brexit would see the prospect of Scottish independence removed – in the short term.
Speaking on the BBC"s Good Morning Scotland programme, the first minister said she believed Scotland"s "direction of travel" was towards independence.
But she said this could be "put aside" in the short term as she seeks "consensus and compromise" over Brexit.
Opposition parties want Ms Sturgeon to rule out a second referendum.
Ms Sturgeon said she wanted the UK to retain membership of the European single market, the so-called soft Brexit option.
If the UK as a whole was to leave the market, she has set out terms on which Scotland could potentially stay in, but these would require new powers being devolved to Holyrood.
Voters in Scotland backed the UK staying in the EU by 62% to 38%.
Ms Sturgeon said she favoured Scotland remaining in the European Union as an independent cou..
Read More